Country:
Colombia
Since:
04/06/2009
Herman Cudris Castañeda

14163

128

78

0

0

0
Colombia
El músico: Luis Antonio Calvo - (1882-1945) Músico - Centenario de nacimiento.
(1872)
Australia
Giovanni Toscani (1372-1430) Oleo:The Adoration of the Magi - Navidad 1994
(1857)
Colombia
AMANECER EN LOS ANDES - Oleo de Alejandro Obregón (1920-1992) Pintor, Escultor Colombo-Español.
(1852)
Chad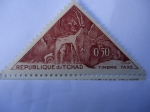 Kudu - Arte Rupestre en las montañas del Tibesti. Kudu Período de Cazadores
(1826)
Bulgaria
SILISTRA- (Bulgaro a Español) 1800º Anivversario de la ciudad de Silistra-169 al 1969
(1784)
Colombia
ACADEMIA COLOMBIANA DE HISTORIA- Veritas Ante Omnia.
(1768)
Colombia
CAFÉ Y CICLISMO-Orgullo Colombiano- Equipo Colombiano de los Granos de Café.
(1755)
Colombia
Orquideas Colombianas-Cattleya Labiata Trianae.
(1743)
Yugoslavia
Antorchas y estrella.
(1713)
Colombia
Eduardo Santos Montejos (1888-1974 )- 30° Aniversarios (1939 al 1970) del Instituto de Crédito Terri
(1699)
Colombia
ODONTOGLOSSUM CRISPUM-Colombia 1874 U.P:U. 1949
(1681)
Colombia
Automovil Club de Colombia -Fia-Fitac-Ait-Bogotá(1940-1965)25 años de servicio.Automovilismo
(1668)